Reading on a screen is famously bad for our eyes and brains. From eyesight decline and headaches to interfering with sleep and even bad posture, the list of potential symptoms is long. Couple this with the technical complexity of many insurance policy wordings and you have a recipe for some potentially difficult reading.
Improving the reading experience for policyholders may be a key to improving a policyholder's understanding and overall experience in understanding their policy.
In 2018, Browne Jacobson and the University of Nottingham conducted an academic study into the readability of insurance policy wordings and found that there are many ways a policy can be made more readable. By making a number of tweaks to the language of policy wordings (including reducing sentence length, eliminating 'low-frequency' words and using pronouns, together with a number of other changes) it has been scientifically established that the readability of wordings can be greatly improved.
In addition to the use of language, there are many innovations relating to how text and information is actually presented, including a new method called Bionic Reading. An example of Bionic Reading is shown below.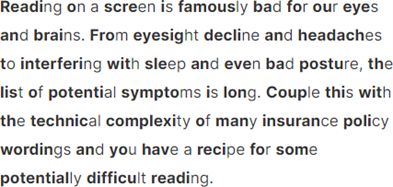 Bionic Reading aims to make it easier and quicker for readers to read a text through the use of innovating bolding – essentially by showing the first few letters of each word in bold font. The technique works on the theory that the human eye rarely reads an entire word, but rather looks at the first few letters together with the general shape of the word, and the brain 'fills in the blanks'. This method is intended to help the brain in doing so.
Whether or not Bionic Reading takes off remains to be seen. However, it is clear that technological innovations such as Bionic Reading, eye-tracking analysis, smart documents and other techniques continue to develop apace. It will be interesting to see whether (and if so, when) insurers begin to adopt such techniques to help their customers better understand and navigate their policy wordings.
Contact